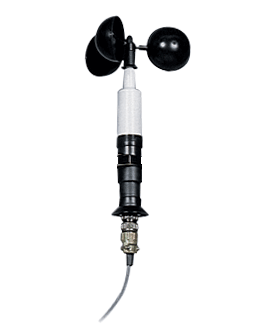 The Gill 3-Cup Anemometer is a traditional type, sensitive sensor for horizontal wind measurement.
Quantity discounts applied during checkout. Excludes sensor cables.
The YOUNG Model 12102 Gill 3-Cup Anemometer measures horizontal wind speed.  The three UV resistant hemispherical cup assembly is attached to a high quality tach-generator transducer to produce a DC voltage that is linearly proportional to air velocity.  A mounting bracket is included that installs on a standard ¾ inch IPS threaded pipe.
Range:

0-60 m/s (130 mph)

Accuracy:

± 1% of reading

Threshold: *

0.5 m/s (1.1 mph)

Distance Constant: *

2.3 m (7.5 ft)

Signal Output:

DC voltage linearly proportional to wind speed. 1800 RPM (2400 mV)=28.6 m/s (64.0 mph).

Power Requirement:

DC generator self-powered.

Operating Temperature:

-50 to 50° C

Dimensions:

Overall height: 32 cm (12.5 in)
Cup wheel diameter: 17 cm (6.7 in) dia.
Mounting: Standard 3/4 inch threaded pipe

Weight:

1.4 kg (3.1 lb)

Shipping Weight:

1.8 kg (4 lb)