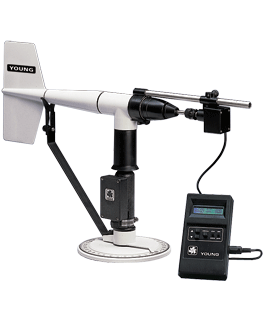 Wind Sensor Calibration Accessories
While not a substitute for laboratory or wind tunnel calibration, these accessories offer an effective means for regular field checking of your YOUNG wind sensors.
Quantity discounts applied during checkout. Excludes sensor cables.
Model 18802 Anemometer Drive provides a convenient and accurate way to rotate an anemometer shaft at a known rate. The motor rotates clockwise or counter-clockwise at a selected rate between 200 and 15,000 RPM (100 RPM increments). The LCD display is referenced to an accurate quartz time base. For portable operation, the unit runs on internal batteries. An AC wall adapter is included.
Model 18811 Anemometer Drive is identical to Model 18802 except the drive motor incorporates a gear reducer for operation in the range of 20 to 990 RPM (10 RPM increments). The lower range is recommended for cup anemometer calibration.
Model 18112 Vane Angle Bench Stand is used for bench top wind direction calibration of Wind Monitor sensors. A pointer at the opposite end of the vane indicates 0 to 360 degrees with ½ degree resolution.
Model 18212 Vane Angle Fixture - Tower Mount is similar to Model 18112 and has a tower mount adapter that allows for use directly on the tower below the sensor (can also be use on the bench top with adapter removed).
Model 18301 Vane Alignment Rod aids in visual alignment of a wind vane to a known direction reference during installation.
Model 18310 Propeller Torque Disc is used to check anemometer bearing torque with a simple yet accurate pass/fail check.  Weights included.
Model 18312 Cup-Wheel Torque Disc is used to check cup anemometer bearing torque with a simple yet accurate pass/fail check.  Weights included.
Model 18331 Vane Torque Gauge is used to check vane bearing torque of YOUNG Wind Monitor sensors.  The gauge fits over the main housing to make simple yet accurate vane torque measurements.