All equipment used to calibrate new or used sensors is traceable to the National Institute of Standards and Technology (NIST) or World Radiometric Reference (WRR).  YOUNG offers two calibration options for most models.  
Standard Calibration
All YOUNG sensors, new or returned, receive a Standard Calibration prior to shipment to ensure they are within specified tolerances.  A calibration certificate (without data) is issued at the time of shipment via email (with invoice).
NIST Traceable Calibration
An optional calibration traceable to National Institute of Standards and Technology (NIST) or World Radiometric Reference (WRR) is available for most YOUNG sensors.  A calibration report with data is included.  All calibrations will be 'As-Left' unless otherwise requested.
Please refer to our Calibration Price List for both Standard and NIST traceable pricing.  Detailed instructions for returning equipment can be found on our Returns page.  If returned equipment is found to require repairs, the customer will be notified prior to proceeding. 
NIST Traceable Wind Sensor Calibration
Performed in our 50 cm x 76 cm test section open return wind tunnel. Features a 14 point wind speed calibration from 0 to 30 m/s (test points model dependent).  Available for most YOUNG wind sensors. Other sensors quoted on request.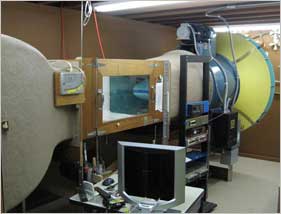 50 cm x 76 cm open return wind tunnel.
NIST Traceable Temperature Sensor Calibration
3 point calibration at -50°C, 0°C, +50°C utilizing stirred liquid temperature baths. Available for YOUNG 41342 and 41372 series models.  Polynomial equation supplied for Platinum RTD sensors without signal conditioning.
3 point calibration at -10°C, 20°C, +45°C utilizing controlled temperature chamber. Available for YOUNG 41382 series models. 
Temperature baths with controllers.
NIST Traceable Barometric Pressure Sensor Calibration
Multi-point calibration from 500 to 1100 hPa utilizing pressure controller at ambient temperature (test points and range model dependent). Available for all YOUNG barometric pressure sensors.
Environmental chamber with pressure controller.