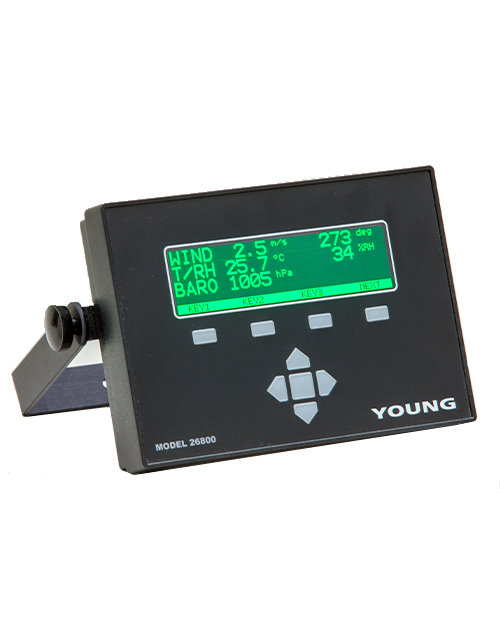 Meteorological Translator
** We're sorry, but Model 26800 is currently unavailable. We're working diligently to make it accessible to you once again. Please stay tuned for updates.  **
The Model 26800 Meteorological Translator offers a unique and flexible solution for meteorological data measurement, recording and display.
Versatile design can be easily connected to wind, temperature, humidity, rainfall, pressure, solar radiation and most other sensors. 26800 features include the following:
High Resolution Display
Fully Programmable
Large Data Storage Capacity
Wide Variety of Inputs and Outputs
Compact Design
USB port
Quantity discounts applied during checkout. Excludes sensor cables.
The YOUNG Model 26800 Meteorological Translator is a programmable digital display and data logger compatible with a wide variety of sensors and accessory devices. The programming and storage capacity along with the variety of inputs and outputs will accommodate the majority of your meteorological needs.  Standard programs are available at no additional cost.  A programming fee may be applicable depending upon program complexity.  Please contact us with details (sensors/inputs, outputs, storage interval, etc.) so the unit can be unit programmed prior to shipment.  An optional Model 26880 Rack Mounting Panel is available for installation into a standard 19" rack mount instrumentation panel.
Voltage Input:

Channels: 7 differential or 16 single-ended inputs in any combination
Measurement range: -5 to 5 VDC
Resolution: 16 bits minimum
Conversion Rate: 4.7 Hz to 4800 Hz in 10 steps
50/60 Hz Rejection: Greater that 90 db at 4.7 Hz sampling rate
Accuracy: 0.1% from 0 to 40° C

Pulse/Frequency Input:

Channels: 4 Inputs for low level AC or switch closure/TTL
Range: 0 to 2500 Hz
Threshold: 50 mV p-p for low level AC input. +2.5 VDC for switch closure/TTL

Excitation:

Channels: 2 outputs
Regulated 5 VDC, reference voltage at 10 mA

Voltage/Current Output:

Channels: 4 outputs as voltage or current output
Range: 0 to 5 VDC, 0 to 20 mA.
Resolution 1 part in 4000 (1.25 mV or 0.005 mA)

Serial Input/Output:

Com1: RS-485 or RS232 1200 to 230,400 baud
Com2: RS-485 only 1200 to 230,400 baud
USB: For stored data and user program transfer via Young RMYComm software.

Switch Output:

Channels: 4 solid state switch outputs
Rating: 60 VDC at 5 A per switch

Memory:

2,162,688 Single-precision floating point values for data records
256 Temporary floating point values for user program
1 to 512 user program instructions

Power:

Nominal +12 VDC at 90 mA with mid-level backlight
+10 to +30 VDC at 2.4 W max
Terminals or coaxial jack for AC-power adapter (included).

Temperature:

Operating temperature: 0 ˚C to +50 ˚C
Storage temperature: -30 ˚C to +50 ˚C

Display:

Adjustable high-brightness, high-contrast with 8 user programmable screens.
Large font capacity: 3 rows x 20 characters per screen.
Small font capacity: 6 rows x 40 characters per screen.
Both font sizes may be used together on the same screen.

Dimensions:

200 mm (7.8 in) x 144 mm (5.7 in) x 54 mm (2.1 in)

Panel Cutout:

194 mm (7.6 in) x 138 mm (5.4 in)

Weight:

0.8 kg (1.8 lb)

Shipping Weight:

1.8 kg (4.0 lb)