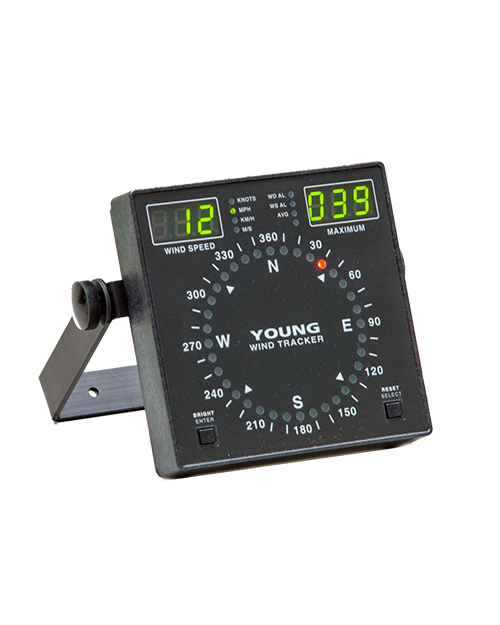 The Wind Tracker wind speed and wind direction indicator offers big performance in a compact display.
Quantity discounts applied during checkout. Excludes sensor cables.
The YOUNG Model 06201 Wind Tracker is a compact wind speed and direction display with advanced features for use in a wide range of applications.  Compatible with most YOUNG wind sensors (excluding voltage output models) it will display instantaneous wind speed and maximum wind gust values in your choice of mph, m/s, km/hr, or knots.  Wind direction is shown on a circular compass pattern of multicolored LEDs displaying both current direction and variability.  Front panel controls allow brightness adjustment and reset of maximum wind speed value.  Voltage outputs (0-5 VDC representing 0-100 m/s and 0-360 degrees) are standard. The included dual power supply is compatible with 110 VAC or 230 VAC supply voltages.  The Wind Tracker can be enabled to display average values.  Alarm relay connections are available for wind speed and direction.  Multiple displays can be used with a single sensor.  This display is very compact for easy mounting on vertical bulkheads or wall surfaces.
An optional Model 06280 Rack Mounting Panel is available for installation into a standard 19" rack mount instrumentation panel (Model 06282 Rack Mount Panel holds two displays).
Model 06260 Weather Resistant Protective Enclosure offers additional moisture and dust protection for the display.
Wind Speed Range:

0-224 mph
0-100 m/s
0-360 km/hr
0-194 knots

Wind Direction Range:

0-360°

Voltage Outputs:

0-5 VDC = 0-100 m/s
0-5 VDC = 0-360° or 0-540°

Serial Input/Output:

Proprietary binary I/O for master-remote display
or
Simple ASCII text output for external device: ss.s ddd<cr><lf>
ss.s: windspeed (m/s)
ddd: wind direction in degrees
RS-485 half-duplex, 9600 baud, 8-1-n, no handshaking

Alarm Relays:

Normally open contacts for wind speed and wind direction
Contact rating: 24 VAC or 30 VDC maximum 5A resistive, 2A inductive maximum

Remote Displays:

16 max

Power Requirement:

12-30 VDC, 4.5 W

Dimensions:

144 mm (5.65 in) x 144 mm (5.65 in) x 36 mm (1.4 in)

Panel Cutout:

138 mm (5.43 in) x 138 mm (5.43 in)

Weight:

0.4 kg (1 lb)

Shipping Weight:

1.4 kg (3 lb)